Call us now to find out more!
UK Tel: 01209 211 800
Intl Tel: +44 1209 211 800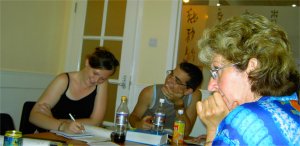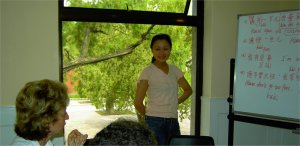 Methodology
The Chinese Language School's key concern is to get you to speak Chinese!
Of course you will cover the four core language skills of speaking, listening, reading and writing, with plenty of grammar and vocabulary work included in order to develop all the essential Chinese language skills.  The curriculum is structured on seven theoretical language levels, with a natural duration of between four and six weeks at each level.  There are classes in grammar, oral and written exercises, practice with video and audio material and conversation on subjects of general, social and cultural interest. 
Special importance is given to the communicative aspect of the language and its use in everyday life. For this reason, the college encourages students to speak Chinese in class, and whenever possible out of class as well. 
A student of average linguistic ability should allow four weeks to complete the Beginner level and a further four weeks to complete the Elementary level 1 and four weeks to complete Elementary level 2, covering basic grammatical structured knowledge to be able to communicate in the practical situations of daily life plus an introduction to Chinese customs.  Approximately six weeks will be required to complete the each of the Intermediate levels: 1, 2 & 3 with emphasis on grammar with reference to the past tenses and development of conversation skills. Finally, an additional 10 weeks covers the Advanced level, deepening grammatical skills, providing fluency in conversation and a deeper knowledge of Chinese culture, also written expression and the creation of texts.
In reality students chose to attend a short course or a longer "Languages for Life" Chinese course according to their linguistic goals, personal wishes and time constraints.
   >  Return to : Beijing 2 / Language Course details