Call us now to find out more!
UK Tel: 01209 211 800
Intl Tel: +44 1209 211 800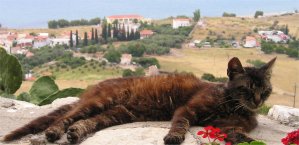 Learn Greek in Greece
"Local people were delightful and very responsive when we spoke to them in Greek. I used Greek in nearly all my circumstances...CESA were very good, I would definitely go again... I would go for 4 weeks this time ... "
Gillian (2 week Greek Language Course)
How can YOU study Greek in Greece?
Whether you are considering some private Greek lessons for one week or more, or a Greek language course for two weeks to several months, CESA can guide you in selecting the ideal solution for your Greek studies. We offer Athens on the mainland and Chania in Crete, so there will be a Greek language course location to meet your requirements.
About Greece
The Greek language is a root language for many of the modern languages of today. Some 10.5 million people live in Greece and many more fully appreciate all that this fabulous country has to offer.