Call us now to find out more!
UK Tel: 01209 211 800
Intl Tel: +44 1209 211 800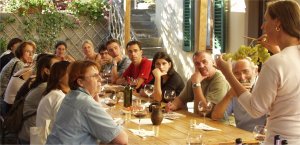 Learn Italian in San Giovanni
Founded in 1997 the college in San Giovanni is set in two separate buildings, both dotted with air-conditioning. The main building is a mediaeval nobleman's residence, just off the main square of the town and has five classrooms (one of which is equipped with audio and video equipment). There is also a reception area and library. In the library there are computers with Internet access and books and videos to help the students learn Italian. There is also a balcony for those who wish to relax in the sunshine . The second building (also very old) houses the school's newer facilities and is only 2 minutes walk from the main building. There are 3 classrooms and a large reception hall equipped with home theatre, internet access and a kitchen for use during cookery lessons.
| | |
| --- | --- |
| Course Duration  | 1-16 weeks+  |
| Minutes per lesson  | 60  |
| Minimum age  | 14 yrs  |
| No. of Classrooms  | 8  |
| No. of students /quietest months               | 25/35 per month  |
| No. of students /busiest months  | 60 per month  |
All students are encouraged to make the most of their time in San Giovanni by participating in the cultural activities and excursions offered by the college. These social activities enable students to get to know San Giovanni, the people and surroundings.