Call us now to find out more!
UK Tel: 01209 211 800
Intl Tel: +44 1209 211 800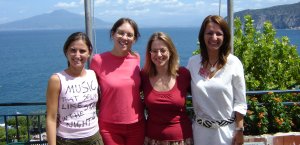 Learn Italian in Sorrento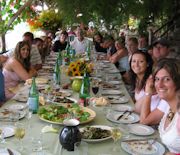 The Italian language school in Sorrento offers a wealth of Italian courses to suit all needs, from Long-term courses to intensive Private tuition courses and the Over 50's Course. For those that want to combine an Italian course with an activity the school offers Italian & Ceramics, Italian & Cooking, Italian & Voice (singing) and Italian & Diving courses.
Italian language courses offered in Sorrento:
> Italian Languages for Life course
> Standard Italian course
> Italian Private Tuition courses
> Combined Italian courses
> Italian Over 50's course
> Italian & Ceramics course
> Italian & Cooking course
> Italian & Voice course
> Italian & Diving course
> Christmas course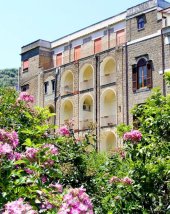 Founded in 1998, the Italian Language School is located in the centre of historic Sorrento in a gorgeous 16th century Palazzo.
The college appeals to students of all ages, as do the additional classes offered in cookery, singing (with a former tenor of the Teatro San Carlo in Naples) and ceramics. From May to September, diving lessons are also offered with a local Diving Centre.
The staff are very friendly and students love the atmosphere of this small Italian School, the marvellous climate and the relaxed style of life.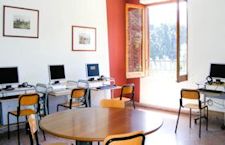 There are 10 classrooms (with air conditioning), a small library, a student room with internet access and terrace areas to sit outside, for self-study, socialising or simply to take a break in the Sorrento sun... And the school is just a short walk to the beach!!
| | |
| --- | --- |
| Italian Language Course Duration | 1-24 weeks+ |
| Minutes per Italian lesson | 50 |
| Minimum age | 16 yrs |
| No. of Classrooms | 10 |
| No. of students /quietest months | 20/30 per month |
| No. of students /busiest months | 60 per month |
All students are encouraged to make the most of their time in Sorrento by exploring the town and local area for themselves, by attending local events and by participating in the guided excursions offered by the Italian Language School. These social activities enable students to really get to know Sorrento, the people and the surroundings and to experience the unique culture of Southern Italy.