Call us now to find out more!
UK Tel: 01209 211 800
Intl Tel: +44 1209 211 800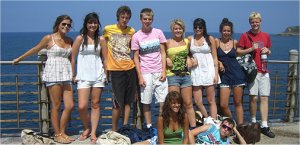 Biarritz : French Leaving Certificate course
Open to :
16/18 yr old students

Is this course for you ?
Yes. If you're looking for an immersion French course, staying with local French hosts. It's perfect for French Leaving Certificate students from Ireland looking to prepare prior to their exam year. Past students have really enjoyed living on the Atlantic coast, in Biarritz. It's demanding, fun and popular ~ so early reservations are advised!
Location Plus Points :
Biarritz is a smart, lively Atlantic town; sunny & coastal.
It is a popular summertime location with teenage language learners.
Stay with local French hosts.
Course Plus Points :
All teachers are fully qualified and experienced in the teaching of French as a foreign language.
Only French will be spoken in class.
Two week+ courses offered (one week options in June & August).
26 French lessons per week format offered
College Description
The Biarritz French language school has an excellent academic record and operates each summer, catering for teenage students aged 14yrs+. The school is based at the main school site upto the end of June, and then transfers the Teenage students to the Lycee site, located in a very pretty residential area of Biarritz until mid August, and then returns to the main school site again. The Summer site is located in a charming villa based college is just to the south east of the town centre, 8-10 minutes walking distance from the sea front, beaches and heart of the town. The school offers 10 bright and spacious classrooms, a computer room, a large courtyard garden shaded by trees with tables and chairs and there's even room to play football and volleyball.
The French language school in Biarritz offers a range of teenage courses, in addition to this Leaving Certificate course. The French language school staff are aware that the students are on holiday and will do all they can to help students enjoy their French experience, both in and outside the classroom.
Language students can follow a one week+ French course in June to August.
..................................................................................................
French Leaving Certificate Course
26 French group lessons x 45 minutes per week (+ surfing or activity programme options)
French lessons held: Monday to Friday AM
Timetable : 09.00hrs to 13.00hrs
On average 8/12 students per class
Max. 15 people per class

Open to all language levels (depending on start date selected)
14yrs+ age group June/August
Course objectives and methodology
the practice of spoken French in communicative situations and a cultural approach to the language development of linguistic proficiency (written and oral expression / written and oral comprehension / interpersonal communication) communicative methods combining individual development and group dynamics (group work, role plays, etc.)
French Leaving Certificate Course / Prices:
| | | |
| --- | --- | --- |
| | | 26 lessons format |
| | CESA Fee + | EUR 50.00 per student/booking |
| | | |
| | One week | EUR 400.00 |
| | Two weeks | EUR 850.00 |
| | Three weeks | EUR 1300.00 |
| | Four weeks | EUR 1750.00 |
| | | |
| | Accommodation | With French hosts/hostesses |
| | One week | EUR 260.00 |
| | Two weeks | EUR 520.00 |
| | Three weeks | EUR 780.00 |
| | Four weeks | EUR 1040.00 |
| | Extra night | EUR 46.00 |
| | | |
> Start Dates 2015
Leaving Certificate students welcomed : From 01 June 2015
You may select from any of the start dates, depending on your course choice.
Two week+ start dates :
| | | | | |
| --- | --- | --- | --- | --- |
| | 01 June | 08 June | 15 June | 22 June |
| | 06 July | 13 July | 20 July | 27 July |
| | 03 August | 10 August August | 17 August | |
NB: Last Year's June start dates became FULLY booked by late April
So early bookings are strongly recommended for June AND July

..................................................................................................
Surf Programme: EUR 180.00 per week
~ 4 afternoons of surf instruction (Monday, Tuesday, Thursday & Friday)
~ exact surf lesson days/timetable dependent on the tides
~ Surf Instructors hold the "Federation de Surf" diploma
~ a free Wednesday PM excursion to San Sebastian, Bayonne or San Juan de Luz in June/July
~ a VERY popular course option and it is recommended you book as early as possible
You can't combine the Surf course with the Activities option in the same week, but you are welcome
to book a one week of each option on a fortnights programme
Activites Programme: EUR 90.00 per week
~ a sporting activity such as basketball/body-boarding...
~ a Wednesday PM trip to San Sebastian, Bayonne or Saint Jean de Luz
~ one surfing session, with a professional surf school
~ a trip to the Chocolate museum, a rugby match, cinema or bowling
Students are advised of the exact options offered each week once at the College.
Supervision
Students are supervised by state qualified instructors for all sporting activities and by a member of college staff for cultural outings. There wil be free time when no supervision is provided.
Location
Biarritz-Anglet-Bayonne (BAB) is situated on the Atlantic Coast, in the south west of France in the Basque Country. The area is a very attractive holiday destination because of its diversity and its nightlife! Inland, Bayonne offers a beautiful riverside setting, medieval old town, famous gothic cathedral and great shopping. Biarritz, is a surfers paradise and offers a wide range of daytime holiday activity possibilities, golden beaches and good nightlife.
Accommodation
French host based (private household)
Can be booked on a shared room* basis only (either with a friend or the college will find a pair for you) with full-board (breakfast, lunch and evening meal) with local hosts.
* Generally single rooms are allocated in August
French hosts live in Biarritz/Anglet/Bayonne -in houses or apartment buildings, just a short bus ride from the college, the beaches and the centre of Biarritz. Hosts offer you the chance to share daily French life with native speakers. They are very likely to have more than two student staying with them.
They will collect you from Biarrtiz airport/station by arrangement, free of charge (if at reasonable hour) and take you back at the end of the course.
Going out Permission
Teenagers aged 14/17yrs old will need signed parental permission to be able to go out in the evenings. CESA will forward details upon enrolment.
Parents must indicate that either:
1/ no permission to go out is given
2/ students are free to go out at a time set by their parents but in any case no later than 12.00midnight
French language students, aged 18 years of age+ are not subject to parental permission rules.
NB: Parents cannot set alternative curfews as the college is unable to police them.
Travel
Arrive: Sunday PM
Depart: Saturday AM
Travel to Biarritz by plane and then take the host arranged two way transfer to your accommodation.
Updated: Mar 2015