Call us now to find out more!
UK Tel: 01209 211 800
Intl Tel: +44 1209 211 800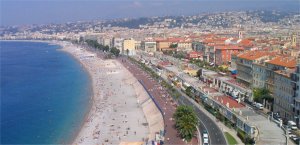 French for Teenagers : Nice
Open to : 16/20 yr old students
Is this course for you ?
Yes. If you're looking for a demanding full immersion French course, staying with local French hosts. CESA students love living in Nice & experiencing the Riviera lifestyle. It is best suited to the older teenager. It's always popular and becomes fully booked ~ so early reservations are advised!
Location Plus Points :
Nice is a thriving city; sunny, coastal and the capital of the French Riviera.
It is a popular summertime location with teenage language learners.
Course Plus Points :
All teachers are fully qualified and experienced in the teaching of French as a foreign language.
Only French will be spoken in class.
One+ week course enrolment possible.
Whilst the college also accepts adults students, they are taught on a separate site to the Teenagers in July & August.
French language classes are all divided according to language level and nationality mix first, and age similarity second.
20 or 30 French lessons per week format offered
> Dates & Prices On Course Finder
Select Nice / Standard or Intensive Course (July & August only)
The course is a more academically demanding course, than other French Teenager centres, yet still aims to stimulate student interest and keep the lessons dynamic. Optional social activities provide contrast and bring an additional element of fun to the overall programme.
The French language college staff are aware that the students are on holiday and will do all they can to help students enjoy their French experience, both in and outside the classroom.
Course Description
The Nice French college has an excellent academic record and is a year round language college for students aged 16yrs+, during the summer students aged 16/20yrs are taught on their own college site. The Summer College is situated to the north of central Nice, near the Roman arena and the Matisse and Chagall museums. The school offers 12 classrooms, a snack bar and a large garden, where students can relax during breaks.
Language students can follow a two week (or longer) French course, in this beautiful Riviera location. The course is appropriate for teenagers who are independent, and mature enough not to require constant direction from group leaders.
Standard Programme
One week+ programmes
20 group lessons per week
Up to 10 students per class level
45 minutes per lesson
No lessons on the first Monday
In total there are 36 lessons over 2 weeks (unless a day is lost to a public holiday). This is equal to a term of contact lessons at most UK schools.
Intensive Course
One+ weeks language course duration
20 Standard French group lessons
PLUS a further 10 group lessons per week
Max. 10 people per group class
Short term French language courses aimed at those who need to build on current skills or who want to kick start their French language learning with a course in France, with additional small group work to aid linguistic development.
Activities
A range of activities are offered at extra cost. Students are advised of the options offered each week once in France via a notice board in the Centre. Although the close proximity of the beach and the facilities of Nice tend to encourage most students to make their own entertainment out of class.
Accommodation
French host based (private household)
Can be booked on a single or shared room basis (shared room only available if staying with a friend) on a half-board basis (breakfast and evening meal) with local hosts. French hosts in Nice live in apartment buildings in and around the city. Hosts offer you the chance to share daily French life with native speakers. They may well have more than one student staying with them.
They will collect you from the airport/station by arrangement, free of charge (if at reasonable hour) but you are expected to arrange your own return trip at the end of the course.
Going out Permission
Teenagers aged 16/17yrs old will need a signed parental permission to be able to go out in the evenings.
Parents must indicate that either:
1/ no permission to go out is given
2/ students are free to go out up to 11.00pm in the week & at the weekend
3/ students can go out in Nice without restriction
French language students, over 18 years of age are not subject to parental permission rules.
NB: Parents cannot set alternative curfews as the college is unable to police them.
Travel
Arrive: Sunday PM
Depart: Saturday AM
Travel to Nice by plane and then take the host arranged transfer to your accommodation.