Call us now to find out more!
UK Tel: 01209 211 800
Intl Tel: +44 1209 211 800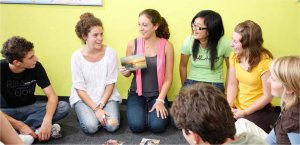 German for Teenagers : Lindau
Open to :
13/16 yr old students

Is this course for you ?
Yes. If you're looking for a full immersion German course, staying with local German hosts. CESA students love living in Lindau & enjoy the relaxed appeal of this picturesque small town. It best suits students looking for a teenage orientated German & activity course. It's popular and becomes fully booked ~ so early reservations are suggested!
Location Plus Points :
Lindau, on Lake Constance is gorgeous, chilled and easy to get around
Popular summer location with teenage language learners
Easy to reach from Friedrichshafen airport
Course Plus Points :
Fully qualified teachers, experienced in teaching German as a foreign language
Only German will be spoken in class
Two weeks+ course enrolment possible
Whilst the college also accepts adults students, they are taught in separate classes, but will be studying on the same site
German language classes divided according to language level & nationality mix
20 German lessons per week format
The course is a great balance of German language and social activities and aims to stimulate student interest and keep the lessons dynamic. The social activities provide contrast and bring an additional element of fun to the overall programme.
The German language college staff are aware that the students are on holiday and will do all they can to help students enjoy their German experience, both in and outside the classroom.
Course Description
Situated along the shore line and on a small island in Lake Constance, in Southern Germany, Lindau is a picturesque location, with small streets, mediaeval buildings and fabulous lake and mountain views. It is within easy reach by air from Friedrichshafen, Zurich or Munich and has great appeal to our younger students.
Lessons are held in the main school, which is situated on Lindau island. The school has modern classrooms, a café with a terrace, a library, a media library with internet and email access. The college will also be offering language courses to adult students aged 17yrs+ throughout the summer, on the same site.
Standard Programme
o Two, three or four week+ programmes
o 20 group lesson pr wk format (x 45 mins lesson)
o Up to 14 students per class level
o Timetable: 08.50 to 12.20hrs
o No lessons on the first Monday (dedicated to level assessment and induction session)
All level abilities, excluding absolute beginners catered for.
In total there are 36 lessons over 2 weeks (unless a day is lost to a public holiday).
This is equal to a term of contact lessons at your school in the UK.

After taking an initial assessment test, teenage students are divided into levels of ability. In these small classes consisting of pupils with the widest range of native languages, only German is spoken from the first day of the course on. The goal of the courses is above all to improve the practical language abilities of the students. This is why the theoretical teaching of German grammar is kept to what is necessary and meaningful. Points of grammar are illustrated principally in practical contexts and situations. In addition to the teaching materials which the college teachers put together themselves, they also use films, CDs, podcasts, newspapers and recent articles. Teaching topics are up-to-date and, above all, selected and compiled to appeal to the tastes of younger people. With this scheme the tutors pursue the chief goal: "intensive learning with fun".
Activities
A range of activities are offered (accompanied/supervised by the monitors) as an inclusive part of this programme including, examples are given below :
1/ a daily social programme –
Afternoon activities, drawn from the following :
sports e. soccer, volleyball
swimming in the Lake of Constance
trip around the island in a paddleboat
bicycle tour
Evening activities, drawn from the following :
party/disco
guided city tour
singstar competition
games night
barbecue at the lake-side
billiards
miniature golf
school cinema
2/ Full day trips:
Munich - www.muenchen.de
Island Mainau and Meersburg - www.mainau.de
Neuschwanstein Castle - www.neuschwanstein.com
Constance and Sealife Center - www.sealife.de
Aquapark Alpemare - www.alpamare.de
Schaffhausen and the famous Rhine Falls - www.schaffhausen.ch
Ulm and the Cathedral - www.ulm.de
Mountain hike and summer toboggan run - www.huendle.de
3/ Half day trips and excursions
Waterski- and Wakeboard Arena Allgäu
High ropes course in Funpark Allgäu- www.kletterwald-baerenfalle.de
Bregenz with the eagle observatory and wildlife park - www.pfaenderbahn.at
Friedrichshafen and the Zeppelin museum - www.friedrichshafen.de
Shopping in Ravensburg - www.ravensburg.de

Accommodation
The college offers a host based German & Fun programme in Lindau so that students can attend their classes and live with local hosts in Lindau.
Hosts: The college chooses the hosts carefully and many of them have worked with the college for several years. They offer full board and students share a room with one other student. Students are either a short bus ride or walking distance from the college, some borrow bikes for the duration of their stay (maximum 20 mins from the college). Please note that hosts are not available on the island itself.
Going Out Permission
The college requires students to respect the following curfews:
Students aged 13/15 yrs old must be home by

22.00hrs

.

Students aged 16 or 17 yrs old must be home at

23.00hrs

.