Call us now to find out more!
UK Tel: 01209 211 800
Intl Tel: +44 1209 211 800




German & Skiing in Kitzbuhel!
This has been the tried and tested combination for over 25 years at the German language college in Austria's premier ski resort, Kitzbühel. 
Get your mind & body working! 
With an emphasis on conversation, the small classes in the mornings mean you make above average progress in producing the German you know and improve at a very rapid rate.  The afternoon skiing, often accompanied by a teacher from the school, gets you out on the slopes in the fresh air, speaking German on the ski lifts. 
Total immersion in German and snow! 
A regular visitor to the college, Chris says: 
"I can usually get out there for a week in December and again in March - this year my son is coming for the December trip.  I get time out of the office, he's getting a break from university.  I love going out with the group from the school, but this year will be different as Ed will be here too.  I'm fascinated to see if they put us in the same class!"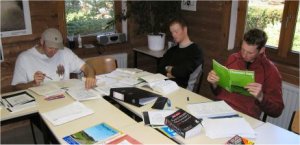 Cut costs by taking your own skis - the airport taxis are used to passengers with a lot of luggage!  Alternatively hire them for around 150 euros per week. 
Go to: Kitzbuhel College Details
College Update: 
"The snow is already here - it arrived at the end of November! 
 We'll be skiing at the weekend.
 Eat your heart out - or get over here!"