Call us now to find out more!
UK Tel: 01209 211 800
Intl Tel: +44 1209 211 800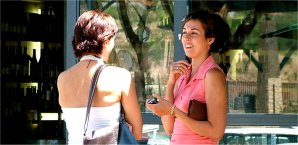 About us
CESA was established in 1980 and since then we have arranged language courses abroad for thousands of people, of all ages and linguistic abilities (from beginners to very advanced students with specialised needs). We know all our language colleges personally and have worked with the majority of them for very many years. Whatever your query, we can draw on a wealth of expertise to guide you to the most appropriate language course for your needs.
We are established, highly regarded and we love our job. In 2015 we celebrate 35 years of trading. We believe that helping you find and attend the right language course abroad for YOU, requires our full attention. We do not publish books, own a travel agency or have business interests that would influence the choice of college we recommend. You can rely on CESA Languages Abroad staff for a truly independent and pertinent service.
CESA Languages Abroad is the trading name of Communication Experts Ltd.
Our legal entity details:
Communication Experts Ltd. Incorporated in England No. 2434069
Registered office: CESA House, Pennance Road, Lanner, Cornwall, TR16 5TQ
Directors: K A Brand & D G Hughes
By booking a language course through CESA Languages Abroad you are assured:
Personal attention

High quality colleges

Detailed advice on the course, accommodation, location and how best to get there.
Our commitment to you….
as students (of all ages and abilities):
A really rewarding language course, with stimulating teachers, interesting fellow students, pre-arranged accommodation …, fun, excitement and language improvement. Whether you are 14yrs old or 82yrs old (or anywhere in between) you receive our full attention, so that your commitment in time, motivation and budget is as effective, enriching and productive as possible.

as parents of younger students:
Great value for money and the opportunity for your child to truly make the most of his or her time abroad, in a stimulating language environment ….. personal attention from us, peace of mind for you.

as teachers arranging individual or group courses:
The perfect language course environment for each student to maximise their potential and enhance their grades, in well-established colleges and under the tuition of trained native speakers…. Quality tuition leading to real language skill improvement.
Your assurance of our professionalism:
CESA Languages Abroad are founder members of the Year Out Group, (www.yearoutgroup.org) an association of leading UK organisations formed to promote the concept and benefits of well structured Year Out programmes.
CESA Languages Abroad staff are always happy to discuss YOUR needs and expectation in detail. Thereby allowing you to gain a clear and realistic understanding of what can be achieved from the time and money that you have chosen to invest in a language course.
If you have any questions please feel free to contact us. We are here to help.
Katherine Brand & Glynn Hughes
Directors