Call us now to find out more!
UK Tel: 01209 211 800
Intl Tel: +44 1209 211 800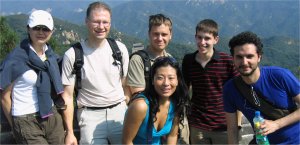 Learn Chinese in Beijing
The Chinese language school (Beijng College One) is located in the China Central Place complex, close to the subway station making it very accessible to students, from across the city. The Chinese School teachs Manadrin Chinese, and offers a range of group and private tuition courses to students of all ages. The school is within easy reach of many restaurants and Beijing`s most popular shopping destinations and the prime night club area around Sanlitun street is only 15 mins from the school.
Language students come from all around the world to learn Manadarin Chinese at the school in Beijing and classes are offered across a range of language levels. The opportunity to stay with local Chinese hosts is a big attraction, but students can book shared apartments with other students or private apartments through the college as well.
Chinese language courses offered in Beijing:
> Chinese Academic Term Course
> Standard Chinese Course
> Intensive Chinese Course
> Combined Chinese Course
> Chinese Private Tuition Course
> Chinese language school : Social Activities
There are up to date facilities and free internet access for students in the Chinese language school. Students can relax between classes on the balconies overlooking the courtyard garden. You can also combine your studies with a course in Shanghai, at the sister school.
The teachers are all native speakers of Chinese, with University degrees, who specialise in teaching Chinese as a second language. The college is open all year round and caters for both short and long term language student needs.
| | |
| --- | --- |
| Chinese language course duration | 1-48 weeks+ |
| Minutes per Chinese lesson | 45 |
| Minimum age | 16 yrs |
| No. of Classrooms | 10 |
| No. of students /quietest months | 35 per month |
| No. of students /busiest months | 70 per month |
All students are encouraged to make the most of their time in Beijing by participating in the guided excursions and activities offered by the Chinese Language School. These social activities enable students to get to know Beijing, the people and the surroundings.