Call us now to find out more!
UK Tel: 01209 211 800
Intl Tel: +44 1209 211 800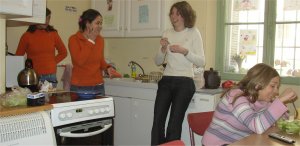 Learn French in Antibes
Accommodation is offered in Antibes and Juan les Pins. Allow between 10 and 35 minutes for the one way commute to college.

NB: The summer months are VERY popular, demand is high and prices go up accordingly! This doesn't affect host accommodation costs though.


Private households:

Can be booked on a single or shared room basis (shared room only available if staying with a friend) on a B&B or half-board basis (breakfast and evening meal) with local hosts. Will become fully booked in July/August.


Residential accommodation:

Offered in various residences and apartment buildings in and around Antibes/Juan les Pins. Students can choose from budget rooms through to higher standard sole occupancy studio apartments, let on a no meal basis with basic, self catering facilities.  Please ask for the CESA Antibes accommodation factsheet.

There are currently three categories on offer:-

Simple residence: single or triple rooms only (excellent value, particularly from Mid October to March).

Medium Standard residences: Single or double rooms available.

Higher Standard residences: Single or double use/studios available. One of the higher standard residences is on the main college site - but there are only a few rooms and assignment cannot be guaranteed.
Arrive: Sunday PM
Depart: Saturday AM

We recommend that you fly direct to Nice Airport; from there you can take a taxi or a bus to your accommodation. Students are welcome to take advantage of the transfer service provided by the college (a free service if staying in private household accommodation and arriving at a reasonable time of day on the Sunday).