Call us now to find out more!
UK Tel: 01209 211 800
Intl Tel: +44 1209 211 800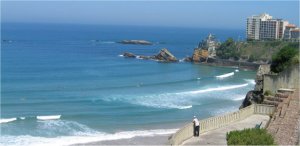 Learn French in Biarritz, France
The French language school in Biarritz offers a Standard Course for students who want to enjoy the French coast whilst improving their French. Private tuition lessons are also offered for students that have specific areas of the language they need to focus on and can be tailored to an individuals needs. For those that want to make the most of the fabulous beaches there is a very popular French & Surf course.
The French language school in Biarritz is set in a lovely residential area, just a 10/15 minute walk from the beaches and town centre. The building offers 6 spacious and air-conditioned classrooms and a coffee/lounge room for students during breaks, an IT room, a media library and a small garden.
All the teachers are native French speakers and are fully qualified and experienced in teaching French as a foreign language.
| | |
| --- | --- |
| Course Duration | 1-12 weeks |
| Minutes per lesson | 45 |
| Minimum age (16yrs in July/early August) | 18 yrs |
| No. of Classrooms | 6 |
| No. of students /quietest months | 15 per month |
| No. of students /busiest months | 60 per month |
Students are encouraged to make the most of their language courses in Biarritz by participating in the guided excursions and activities offered by the college.

Of course, Biarritz students enjoy the marvellous surfing opportunities offered on the Atlantic seaboard! The college have developed excellent links with a local surf club, so that students can do so, safely and have lessons (if required) in combination with a language programme.

The college organises such activities as guided tours of Biarritz and historical monuments, tasting's of local products, excursions to the Pyrenees Mountains, hiking, horse riding, cycling, water sports, golf and tennis each month, depending on the weather and student interest.
An example of a week's cultural programme:
Tuesday: Movies
Wednesday: Biarritz Tour
Thursday: Hiking the Pyrenees Mountain
Saturday: Bilbao excursion