Call us now to find out more!
UK Tel: 01209 211 800
Intl Tel: +44 1209 211 800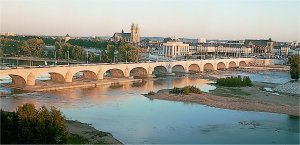 Learn French in Tours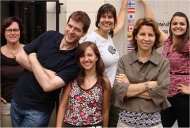 The French language school was established in 1985. It is located in the heart of the lively historic centre of Tours, with its 15th century homes and plenty of cafes. It occupies a beautifully renovated, elegant 18th century building. From the classroom window you can admire the Charlemagne tower, one of the town's oldest monuments. The school really appeals to adult language students looking for a French school with character and atmosphere - this the French language school in Tours has in abundance.
If you are looking to work on your French for a a few weeks in a classroom that guarantees small group tuiton, with other adult students from around the world, you will love Tours! The school offers mini group classes (of no more than 7 students per class) in the heart of the delightful Loire valley - which is well know for the purity of the local French accent and of course for the local wines, as well!
French language courses offered in Tours:
> French Languages for Life Course
> Mini Group French Course
> Combined French Course
> French Private Tuition Course

> French Wine Appreciation Course

The French language school provides the perfect environment for those who require serious study in small group lessons. Situated on three floors, the college comprises of 10 classrooms for group study with additional smaller rooms for private tuition lessons.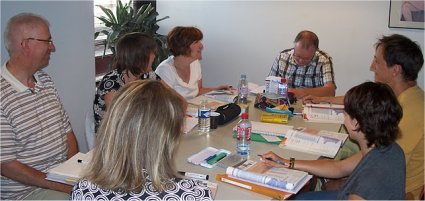 During the summer, students relax on the rooftop terrace. Students have free access to the internet and email at the school. There is also a growing library of French DVD's and CD-Rom's to help students in self-study. At its busiest during the warmer months of the year, students are well advised to book early for the summer programmes .

The staff are always on hand should you have any questions once on your course. The school requires all their teachers to have university degrees (minimum requirement is an MA) and extensive experience teaching French as a Foreign Language.
| | |
| --- | --- |
| French Language Course Duration | 1-12 weeks+ |
| Minutes per French lesson | 45 (60-Private Tuition) |
| Minimum age | 18 yrs |
| No. of Classrooms | 10 |
| No. of students /quietest months | 25 per month |
| No. of students /busiest months | 60 per month |
All students are encouraged to make the most of their time in Tours by participating in the guided excursions and activities offered by the French language school. These social activities enable students to get to know Tours, the people and the surroundings.