Call us now to find out more!
UK Tel: 01209 211 800
Intl Tel: +44 1209 211 800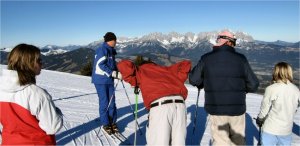 German Language & Ski or Snowboarders Exam Course
Learn to be a Ski or Snowboard Instructor : Learn German
Gap Year Programme : 11 Weeks in Kitzbühel Oct-Dec
Past Student Reports
> www.cesalanguages.com/blog/tag/ski-instructor-course/
The Kitzbuhel college is uniquely positioned to offer an intensive German language course combined with a skiing/snowboarding programme, with special training for the ski/snowboard instructor's exams. This means that at the end of 11 weeks, your German will be excellent (whatever your standard when you begin the course), and you may be an Austrian-qualified ski/snowboard instructor, able to work a full season in Kitzbühel.
Past CESA students have found jobs as instructors without difficulty - if you pass the exam, you are all but guaranteed to get work. Last year all bar one student passed the exam (and they succeeded on the second attempt).
We are also offering a week in Eastern Europe. After 4 weeks of German and skiing/snowboarding, you take a week out to visit the famous cities of Salzburg, Vienna, Budapest, Prague, and Budweis.
Course Description
The College is a small private German language school. It was founded in 1981 and was recognised by the Austrian Education Ministry's body, Campus Austria, in 1993 as a school displaying academic excellence and generally fulfilling the criteria for recognition. We are not a ski school: we have excellent partnerships with ski schools in Kitzbühel and Kaprun, who will provide the ski/snowboard instruction and training part of the course.
Where is the college?
The school is in Kitzbühel in Austria. Kitzbühel is a famous ski resort, with good infrastructure connections. To get here, most people fly to Munich, although it is also possible to fly to Salzburg or Innsbruck. This mountainous region is an area of outstanding natural beauty, and one of the largest ski areas in Austria.
Dates for the course:
The exact dates for the ski/snowboard/dual exams are fixed every summer by the Austrian authorities for December of that year. We send out our programme a long time in advance of these dates. We design the course around the final dates and following certain problems in recent years concerning the dates of the exam (one year the exams were set a week after our course ended, one year they were one week before), we have therefore decided to fix the dates for this course once the dates for the exams are made public.
Where will the skiing/snowboarding take place?
In October and November, you will travel on Thursdays after lessons to a town called Kaprun, which is at the foot of a glacier. You'll be skiing/snowboarding there three days a week and will come back to Kitzbühel on Sundays after skiing/snowboarding (see Timetable of German and Glacier Weeks below). As soon as the lifts are operating in Kitzbühel, you can ski there.
What is the format of the German lessons?
Lessons are from 9:00 to 12:15 Monday to Thursday. You will be asked to take a test on your first Monday morning (unless you're a beginner), to establish your standard so that we can put you in the right class for you. Because the classes are so small, between 2 and 6 people per class, you can concentrate on those areas, which you particularly need.
What is the name of the exam?
Anwaerter. This is the level 1 exam for Austrian Ski Instructors. It is possible to do a level 2 & level 3 exam at a later date (but most Instructors won't). The level 2 & 3 exams do not indicate how good a skier you are but how good a teacher you are. Before students can sit the level 2 exam they must have the level 1 exam and have taught skiing for at least 2 seasons. Ski Schools require that their Instructors have the Anwaerter (level 1 exam) and will only have a few Instructors of higher qualification (partly because they don't need them, and partly because they cost the School more!).
Can I use the qualification outside of Austria?
Yes the qualification is a very prestigious qualification and can be used Worldwide.
Included in the Gap Year Programme is:
8 weeks intensive German tuition (09:00 to 12:15 Monday to Thursday) including all lesson materials, at the college, plus the free time programme on Mondays and Wednesdays, the social programme on Sundays and Wednesdays, and an evening class on Tuesdays (see timetable below). Although voluntary, these parts of the programme are important for your total immersion experience, as you have to use the German you've learned, in authentic situations.
All accommodation in shared rooms with corridor showers, plus breakfast and dinner (except dinner on Sunday evenings).
8 weekends glacier skiing/snowboarding (Friday to Sunday). Weeks 1-4 and weeks 6 to 9, will follow the pattern of the "German and Glacier Skiing/snowboarding" timetable (see below). These weekends include three half days' training on the glacier by qualified instructors who've passed the exam themselves. They will speak only German to you (except to beginners) and assess your current standard and design a training programme suited to your particular needs, to bring you up to standard in time for the exam.
In week 5, one week travelling around Eastern Europe, tour to include Vienna, Budapest and Prague. The total price includes coach transport plus a native German speaking guide, hotel accommodation including breakfast. Not included are the entrance fees to whichever museums you may choose to visit during the free days (see Eastern Europe Week timetable), or lunch and dinner.
In weeks 10 and 11, the beginning of the 10 day preparation and exam.
Lift passes for the instructor training in Kaprun and the compulsory part of the instructors' course are included in the price.
Transport from Kitzbühel to and from the glacier village (Kaprun). There may be small bus fares between the lodgings in Kaprun and the ski lifts.
Not included:
Lunch, and drinks at dinnertime. There are 2 supermarkets within walking distance of the school, and a lot of students organise lunch cheaply there. In Kaprun, lunch can be bought in the mountain huts.
Dinner during East European week.
Ski/snowboard hire. For a long programme like this, with a season as a ski/snowboard instructor potentially from Christmas to the middle or end of March, you would be well advised to bring your own ski clothes and equipment.
Plane ticket to Munich airport. The official start to the programme is Sunday 6th October 2013*, but if you can't get a flight on that day, please email us with suggested other dates (probably the Saturday or Friday before) and ask about extra accommodation for the extra night(s).
Transfer from Munich airport to Kitzbühel. This is not included in the price, but we can advise you to organise the transfer for you. It is currently approx € 60/70.00 one way.
Transfer to Serfaus for the Dual Instructors' Certificate: We have to add a supplement for the dual course anyway and in order to keep this supplement as low as possible, we prefer to leave it up to course participants to decide if they'd like the cheaper option of the train or a more expensive private transfer. All information on the transport options will be provided by College staff.
* Start and end dates subject to change.
Kitzbühel: While you are in Kitzbühel you will be staying at a pension near the school. This is shared room accommodation with corridor showers. There may be an overspill into other pensions, but most people will be in the main building. The advantage of this is that classes are around the corner from your room. You don't need to worry about public transport to get to your German lessons. Breakfast will be in the breakfast room in the same building, but dinner will be in the Bistro, 5 minutes walk from the school.
Kaprun: During the glacier skiing part of the course, you will be staying in either the modern youth hostel in Kaprun or a pension. Each of these is a beautiful Tyrolean building, well furnished, with plenty of common rooms, large dining rooms, bright sunny bedrooms with outstanding views of the mountains. Again these are shared rooms, this time with en suite facilities. Breakfast and dinner will be in-house.
Kaprun is about an hour's drive from Kitzbühel, with guaranteed snow all year round. You will get there and back by coach. There are public transport connections between Kitzbühel and Kaprun, but these can be complicated and we would recommend that you be sure and catch the coach. You will be given the coach driver's mobile phone number, so if you find yourself running late, you can always contact him and let him know what's happening.
Facilities: Both Kitzbühel and Kaprun are modern, humming towns well served by internet cafés, swimming pools, pubs, restaurants, gyms etc. The college has negotiated a special price for language students in the Kitzbühel gym. This is recommended as a part of your overall training. If you have a particular concern about other facilities, please email us and ask for extra information.
Safety: We require you to bring a mobile phone. You may decide it would be cheaper to buy one in Austria - no problem, the first afternoon programme will be a tour of the town and the director can take you to the best shop for mobiles and advise you which to get. You will not be allowed onto the bus to Kaprun to begin your skiing/snowboarding training without one. Everyone is required to give the college staff their mobile number before they arrive, or immediately after buying a phone in Kitzbühel. You will be given the college office number and emergency numbers to call if you get lost or injured on the glacier. You must switch it off during lessons, but otherwise leave it switched on during the day time.
Accidents and emergencies: You should take out medical insurance before you arrive. If you'd like help with this, please email us.
Dual Certificate: Have you considered doing the dual certificate? If you are a snowboarder and can also ski, you might consider this as there is far less work available for snowboard instructors than for ski instructors. Why? Because it is generally younger people who want to snowboard and they can only come here in the Christmas holidays and during half-term in February. Therefore the work for snowboard instructors can be a bit scrappy. If you do the dual qualification, you are more likely to be guaranteed work for the full season. Please note it costs (approx) an extra € 500 to do the dual certificate and your transport to Serfaus where you'll do the exam is not included (but assistance is offered by the College office).
Proviso
This is a long course with a lot of changes of venue, accommodation, lift passes, an exciting trip around Eastern Europe, the instructors' exam itself, involving a lot of College partners such as the outstanding ski school in Kaprun, our coach driver and tour guide, our teachers, accommodation and meal providers. We work very hard to ensure the smooth running of the course. We always try to ensure that every statement made in this course outline is accurate; but we reserve the right to make any necessary changes to it if because of any unforeseen circumstances amendments to the programme should be necessary.
For the full Factsheet, please contact the CESA Languages Abroad office
or download the attached PDF document (at the top of this page).
T. 01209 211800 Intl tel. + 44 1209 211 800
F. 01209 211830
Email. info@cesalanguages.com