Call us now to find out more!
UK Tel: 01209 211 800
Intl Tel: +44 1209 211 800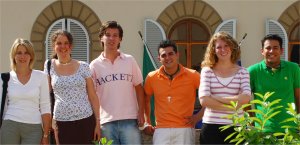 Learn Italian in Siena
> Italian Languages for Life Course
> Italian Academic Year Course

> Standard Italian Course
> Italian Over 50s Course
> Italian for Serious Foodies

> Combined Italian Course
> Professional Combined Italian Course

> Italian Private Tuition Course
> Italian Exam Preparation Courses
> Italian Course Methodology
> Art History, Cookery & Wine courses
Italian Languages for Life Course
8 to 48 weeks Italian language course duration
Open to 16yrs + age group
20 group Italian lessons per week
Max. 12 people per class
A long term Italian language course in Siena ideal for Gap Year / post University students or adults looking to learn Italian in depth over two or more months for maximum impact and progress. The Italian school in Siena will work with a range of different methods, chosen according to the level of the students (students are always streamed according to their language ability). The overall goal of the language school is to provide students with the best possible training in the Italian language, allowing for the duration of the programme on offer and the time the student has allocated.
Techniques are a mixture of traditional (teacher led) and communicative (student based) methods. All aspects of the language are explored; oral comprehension and expression and written comprehension and expression. Much is dependent on the make up of the class concerned and their specific linguistic requirements as a group.
The teaching programme clearly varies according to student level however the following aspects of study will play a part in the curriculum:-
• Intensive grammar study
• Phonetics
• Development of vocabulary
• Syntax and application
• Listening and comprehension
• Dialogue and communication
• Situation method
• Idiomatic language
• Written and oral expression
• Lecture and analysis
• Live guided discussion and synthesis
• Free conversation
A selection of material are used in addition to the Italian grammar and exercise books are available for the teacher's use and these can be supplemented as needed (according to the group's linguistic capability) i.e. films, newspapers, advertisements, texts on current affairs and topical issues etc.
Italian Academic Year Course
32 weeks Italian language course duration
Open to 16yrs + age group
20 group Italian lessons per week
Max. 12 people per class
Level: Beginner/Low Intermediate
> Full course description
The ideal long term Italian language course solution for Gap Year students, graduates and adults looking to take a serious career break. These long term Italian courses in Siena allow students to focus on all aspects of the Italian language over eight months, whilst also placing the language within a meaningful cultural framework. In-depth study over an extended period ensures better mastery, subtler understanding and far greater long term retension of key language skills.
Standard Italian Course
1 to 8 weeks Italian course duration
Open to 16yrs + age group
20 group Italian lessons per week
Max. 12 people per class
A short term Italian language course aimed at those who need to build on current skills or who want to kick start their Italian language learning from scratch with an immersion course in Italian. The methods used are the same as those described in the Languages for Life course description. We recommend students taking a one week course to avoid weeks with public holidays in them.
Italian Over 50s Course
1 or 2 weeks duration
Italian language lessons as per the Standard Course
plus a busy activity programme
A popular programme offered on set dates each year
in May, June or September
See Course Finder for exact details or
go to > Over 50s course description: Siena
Week One - sample
- Guided city tour and local aperitif in the 'Campo' square;
- Visit to the Duomo, the imposing cathedral of Siena;
- Relaxing half day excursion at the Spa of Rapolano;
- Guided visit to the fascinating fountains of Siena;
- 'Pecorino' cheese tasting, accompanied by a selection of honeys and marmalades.
Week Two - sample
- The program of the One-Week-Course is followed by:
- Weekend excursion to the Beauty of Southern Tuscany;
- Introduction to Tuscan cuisine: lesson and tasting;
- Guided tour of the 'Palazzo Pubblico', Siena's graceful gothic town hall;
- Wine tasting guided by expert sommelier;
- Traditional Tuscan dinner with the group leader in a renowned local restaurant.
Italian for Serious Foodies
2 weeks Italian language course duration
Open to 16yrs + age group
20 Italian lessons (Standard Course) per week
plus a series of gastronomic workshops
Max. 12 people per class

Afternoon workshops cover:
The history of food, cusine, cultural characteristics of Tuscan cooking, the "DOP" & "IGP" protected regional food, Extra Virgin Olive Oil; recognising products, understanding the oil making process & taste testing for quality and defects, Wine & Pecorino cheese tastings
Chef demonstration in a well-known restaurant, from medieval times to today
Pre-intermediate Italian recommended > See Scale of abilities for details
Combined Italian Course
1 to 12 weeks Italian language course duration
Open to 16yrs + age group
20 group Italian lessons per week
plus a further 5 or 10 Italian private tuition lessons per week
Max. 12 people per group class
A short term Italian language course aimed at those who want the combined study experience of the camaraderie of the group course in Siena, with the individual attention of the Italian private classes with a personal tutor.
Professional Combined Italian Course
2+ weeks Italian language course duration
Open to 18yrs + age group
20 group Italian lessons per week
plus a further 10 Italian private tuition lessons per week
Max. 12 people per group class
A short term Italian language course aimed at those who want the combined study experience of the camaraderie of the group course and the individual attention of the Italian private classes with a personal tutor. If offers particular emphasis on specialised fields such as Italian for Lawyers or Italian for Medical personnel etc. This course is aimed at those with prior Italian knowledge (Intermediate level) and business/professional linguistic needs only.
Italian Private Tuition Courses
1 week+ Italian language course duration
Open to 16yrs + age group throughout the year
15, 20, 25 or 30 private Italian lessons per week
An extremely intensive Italian language course, ideal for those who wish to make maximum language progress over a one or two+ week period in Siena. Aimed at business people or those who need to work on their Italian for academic or professional reasons, for whom time is of the essence. Continual language practice, maximum concentration through intensive work with your personal teacher and, especially, active practising of your communication skills guarantee you swift progress and success in the shortest possible time. Thanks to their proven system "the Italian school in Siena is able to plan private tutorial according to your needs and areas of interest.
Lunch with teacher : If you wish, the private tutorial can also be organised to include lunch with your teacher. Thus you are able to continue practising the new language during the lunch-break.
Professional element: Should you already have sufficient knowledge of Italian, you can also learn vocabulary oriented to certain professions, such as general business Italian, banking, trading, import/export, law, insurance, marketing, medicine and so on. Please discuss with CESA staff if this is of interest.
Italian Exam Preparation Courses
DELI (elementary level)
DILI (intermediate level)
DILC (intermediate/business level)
DALI (advanced level)
DALC (advanced/business level)
Students are welcome to follow a long term Italian language course prior to the four week specific exam preparation course leading to the exams themselves. The final 4 week session consists of the Italian Standard course plus an additional 10 lessons per week of mock tests, strategy discussion and exam drills. Should there be only one participant in a class, lessons will be reduced to 5 private Italian lessons per week (in addition to the Italian Standard Course).
Italian Cultural Programmes:
Offered ONLY in addition to the Italian language courses...
and students are advised to book these once in Siena, not in advance

~ History of Art
~ Cookery
~ Wine Tasting
Italian History of Art Course:
An introduction to the most important Italian artistic styles and allow students to view the original works of the artists in situ!
Good elementary Italian required (A2) > see Scale of abilities for details
Duration: 2 weeks
Lessons: 12 over a 2 week period

Students will consider most classical art and artists associated with Italian culture and in particular the fine examples they can find in Tuscany and that are still nowadays part of the local background. In each class students will view images of art works and focus on the biographies of the artists explored.
~ Middle ages
Romanesque and Gothic culture. Influences from France and Northern Europe. Religious and civic architecture in Florence, Siena, Pisa, Venice.
Churches and City Halls. Local examples of S.Antimo and S.Galgano abbeys.
Nicola and Giovanni Pisano and the pulpits of Pisa, Siena, Pistoia: from the antique to the Gothic style. Cimabue, Giotto, Duccio and the technique of the fresco. The Basilica of St. Francis in Assisi.
~ Sienese painting in the XVI Century
After Duccio: Simone Martini, the Lorenzetti brothers and comparison with Florentine Renaissance.
The importance of the Sienese school of painting in Italy.
~ The Renaissance
Florence and the « Quattrocento ». Brunelleschi, Donatello, Masaccio, Iacopo della Quercia, Della Robbia brothers. The big commissions of the Baptistery and the Dome. Mastery of the perspective and artistic leadership of the city in Europe. Italian Courts. Varied examples of Renaissance style
in Italy: Mantova, Urbino, Milano, Pienza. The magnificence of Popes and patrons. The increasing fame of the artists.
New techniques: canvas, oil, printing. The genius of Michelangelo, Raffaello, Leonardo, Tiziano. Antiquity and nature as source of inspiration.
~ Mannerism
The crisis of the XVII Century in architecture, sculpture and painting. Giorgio Vasari, Pontormo, Domenico Beccafumi, Giambologna.
Italian Cookery:
A great favourite with past CESA students. Prepare and cook a complete menu of typical Italian dishes, finish by eating the food together with the other students!
Elementary Italian recommended (but beginners are welcome)
Duration: 1 week, extendable
Lessons: 1 session of approx. 3 hours
Each participant receive a recipe book (vocabulary given in several languages)

Would you like to be able to cook authentic Italian food at home?
This cookery course will enable you to prepare typical Italian meals and to learn recipes from various regions of Italy. The course is based on one meeting of session of 3 hours a week and caters for all potential participants, including the novice to the art of cookery.
During each weekly session the students prepare and cook a complete menu (different each week) which consists of typical dishes of Italian cuisine in the tradition of genuine simplicity. At the beginning of each lesson the teacher explains the menu of the day and distributes the work. During the preparation and the cooking of the food, the teacher demonstrates, explains and gives valuable hints and tips. The students prepare the table and dine together. Each student or pair of students presents and serves to the others the dish they have prepared.
This course is organized in such a way that students can enjoy hands on experience with Italian cookery.
Italian Wines:
An introduction to Italian wines from across a range of regions plus wine tasting sessions and (when possible) a visit to a nearby vineyard.
Starting dates: every week
Duration: 2 or 4 weeks
Lessons: 1 session of approx. 3 hours per week;
2 evenings over 2 weeks or 4 evenings over 4 weeks
Good elementary Italian required > See Scale of abilities for details

Did you know that Italy is the largest producer of selected wines?
This wine course gives you an introduction to the art of grape cultivation, processing and storing of the most well-known Italian wines. The practical part consists of wine tasting which will allow you to get to know the wines from the different regions of Italy. Where possible we will organise a visit to a renowned wine-cellar.
Program topics:
How to read the etiquette of an Italian wine bottle; Classification of the Italian wines (house wine or denomination of origin, D.O.C. and D.O.C.G.); The traditional techniques of cultivation, fermentation and aging used in Italy; Wine tasting and terminology; The wine production in Italy and its consumption; New, non traditional wines; The products of Tuscany, the north-western region (Piedmont), the north-eastern region (Friuli, Sud-Tyrol) and the other regions, especially of the central and southern area of the peninsula.
During the course 24 quality wines will be presented and tasted. Maps will be shown and illustrated material handed out (statistics, charts, descriptions etc.). Other subjects will be discussed too, such as the pairing of food and wine and comparisons made with foreign products.
The Italian Language School's key concern is to get you to speak!
Students are encouraged to speak Italian and only Italian for the very first day. Learn more about the methodology at the Italian language school in Siena