Call us now to find out more!
UK Tel: 01209 211 800
Intl Tel: +44 1209 211 800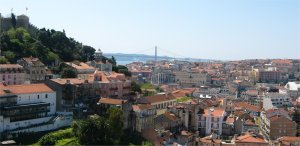 Learn Portuguese in Lisbon
Learn Portuguese in Lisbon, Portugal in this first class, high quality language school. With many years experience in language training and many satisfied Portuguese language students, we know that you'll love your time in Lisbon, with this school and you'll learn a lot of Portuguese.
Learn Portuguese in Lisbon : Course options
> Portuguese Languages for Life Course
> Standard Portuguese Course
> Standard Plus Portuguese Course
> Portuguese Combined Course
> Portuguese Easter Course
> Portuguese & Surf Course
> Portuguese Teacher Training Course
> Portuguese Private Tuition Course
Established in 1959 the Portuguese language school is located in three centrally placed buildings all within walking distance of one and other. In total there are 20 classrooms, a computer room (with free email access), a library, kitchen with free coffee and water and a study room. It is 5 minutes by metro from Marquês de Pombal Square and the heart of the old town. The staff are always on hand should you have any questions once on your course.
The Portuguese language school teachers are all native speakers of Portuguese, with University degrees, who specialise in teaching Portuguese as a second language. The Portuguese Language School also provides language tuition in French, English etc to Lisbon's citizens.
| | |
| --- | --- |
| Portuguese Language Course Duration | 1-36 weeks+ |
| Minutes per Portuguese lesson | 50 |
| Minimum age | 18 yrs |
| No. of Classrooms | 20 |
| No. of students /quietest months | 30 per month |
| No. of students /busiest months | 90 per month |
All students are encouraged to make the most of their time in Lisbon by participating in the guided excursions and activities offered by the Portuguese Language School. These social activities enable students to get to know Lisbon, the people and surroundings.