Call us now to find out more!
UK Tel: 01209 211 800
Intl Tel: +44 1209 211 800


Spanish and Sailing Course in Palma, Spain
Is this course for you? 
Yes. If you want to improve your Spanish and Sailing skills in Palma de Mallorca, this course was MADE for you! 
Fabulous beaches, great sailing conditions and the opportunity to perfect your knowledge of the Spanish subjunctive!  Heaven.  If you  long to become a Sailor and need to improve your Spanish - read on! 
Mallorca's coastline offers countless opportunities for leisure and sport. The warm climate of the island, with an annual average of 300 days of sunshine and an average temperature of 27C in the summer and 10C in the winter, makes it a perfect place for sailing, windsurfing, diving, water skiing and any water sport one would like to try. The bay of Palma hosts prestigious sailing regattas such as the Copa del Rey and the Trofeo SAR Princesa Sofía.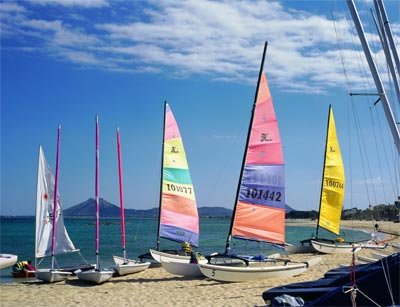 Spanish Lessons
 
 
 
 
     
Lessons:
 20 general Spanish morning lessons
 + 10 sailing lessons per week
     
 
Levels:  
 Beginner to Advanced Spanish speakers 
 
 
Start Dates:

All year round / Set start dates for group classes
For exact dates, please refer to Course Finder

 
 
Timetable:   
Normally 9.30 to 13.30 with a mid morning break, Monday to Friday + afternoon sailing lessons. 
Year round private sailing lessons
July & August group sailing lessons
Sailing: 15.00 to 18.00hrs, but 
times are subject to change according to weather conditions.
 
 
Duration:  
2 weeks
 
 
 
 
> Dates & Prices : On Course Finder 
   Select Spain / Palma de Mallorca / Spanish & Sailing
Sailing Lessons
Working in collaboration with El Arenal Sailing Club - one of Mallorca's longest established and most prestigious sailing schools - the Spanish language college offers you the opportunity of combining an intensive Spanish course in the mornings with a 30-hour (2-week) sailing course in the week day afternoons (15.00 to 18.00hrs).
Courses are available at all levels, including beginners to Sailing, all year round and you can choose either to have private sailing lessons - Year round - or attend a group class (minimum 4 participants) - in July & August.
The fee doesn't include transport to and from the sailing school, although this can be arranged on request.
Please note that the summer group sailing classes are subject to there being a minimum number of 4 participants.
Private classes are available all year.
Sailing Groups: approx. 4/8 participants  per monitor
Sailing Equipment: The course fee includes the hire of all equipment and obligatory insurance cover.