Call us now to find out more!
UK Tel: 01209 211 800
Intl Tel: +44 1209 211 800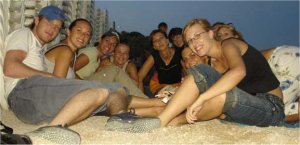 Learn French in Biarritz, France
  >  French Standard Course
  >  French & Surfing Course
  >  French Private Tuition Courses  

  >  French Course Methodology
French Standard Course
2 to 12 weeks language course duration
Open to 18yrs+ age group (16yrs+ in July/August*)
20 group lessons per week
Max. 12 people per class
A French Language course aimed at those who need to build on current skills or who want to kick start their French language learning from scratch with an immersion course in France. Long term Standard Courses appeal to Gap Year students and those looking for a Career break
* CESA recommends this school for adults.
Teenage students are recommended to book the Biarritz Teenager school
French & Surfing Course
2 to 4+ weeks language course duration
Open to 18yrs+ age group
20 group lessons per week
+ 10 lessons dedicated to surfing over a week
One and a half hours of surfing a day, Monday/Friday
The beaches used appeal to improvers, but also to those at a beginner level. The Surf school provides wet suits/shorts and boards. NB: The French & Surf Course is a very popular summer programme, please book well in advance for July/August period.
French Private Tuition Courses
1 week+ language course duration
Open to 18yrs+ age group throughout the year
20 private lessons per week
An extremely intensive French language course, ideal for those who wish to make maximum French language progress over a one or two week period. Aimed at business people or those who need to work on their French for academic or professional reasons, for whom time is of the essence.
The college's key concern is to get you to speak!
Students are encouraged to speak French and only French from the very first day.  Learn more about the methodology at the French language college in Biarritz.