Call us now to find out more!
UK Tel: 01209 211 800
Intl Tel: +44 1209 211 800




Learn French in Cannes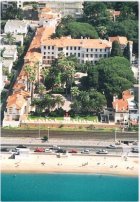 Established in 1931, the French language school moved to its present site in 1981. It is set in its own private campus, around a central open-air courtyard. It is just one road back from the beach and a 15 minutes stroll from the heart of the town and has parking (for cars and bikes) on site.
Situated on 3 floors, the school has 21 good-sized classrooms and a large dining room serving three meals a day. The facilities also include a gym, a bar, a TV and video room, a theatre (seating 140 people) and its own volleyball and basketball court. When taking a mid morning break students can relax in the central courtyard in the shade of the mature palm trees and make plans for that evening's entertainment.
The school offers a truly relaxed and highly enjoyable study environment. In a designated internet room, students have email access. There is a library of books, papers and CD-Roms to help students study.
At its busiest during the warmer months of the year, students must book early for the May to September programmes.
French language courses offered in Cannes:
The staff are always on hand should you have any questions once on your course. The French language school requires all their teachers to have university degrees (teacher for French as a foreign language) and extensive experience teaching French as a Foreign Language.
| | |
| --- | --- |
| French Language Course duration: | 2 - 24 weeks |
| Minutes per French lesson: | 45 minutes |
| Minimum age: | 16 yrs (15 yrs in the summer sessions) |
| No. of classrooms: | 21 |
| No. of students/quietest months | 75/100 per month |
| No. of students/busiest months | 260 per month |
Many students make their own plans to explore Cannes and the Cote d'Azur. There are certainly plenty of opportunities to enjoy a variety of social activities in Cannes. There are many sporting opportunities in the area, from water sports; sailing, wind-surfing, scuba-diving or water-skiing to tennis, horse-riding, golf, squash, dancing or the ever popular Provencal game of "la petanque".