Learn French in Paris (9th District)
With nearly 30 years of teaching experience the Paris college offers a wonderful central city study environment to suit all linguistic needs (across 10 language levels on general language courses).
Paris is historic, modern, cultural, diverse, beautiful & has a night life to suit all tastes. The French language school is well located in the lower end of the 9th district of Paris and offers a wide range of training needs to meet the requirements of all students.
CESA Plus Points:
Well priced, quality language courses from one week to a full academic year on offer, across all language levels
Afternoon courses at budget rates have been particularly successful of late
Ideal for adults & students year round, but becomes fully booked in the summer months
Fabulous position in the centre of Paris (9th arr.), within easy access to all the many sights and shops that the city offers!
Our French lessons were always interesting – we never recited verbs in front of a blackboard – it was more like a long conversation starting off about a point of French culture of society, and going on to how that issue is dealt with in our own countries. I learnt so much about many different cultures as we discussed things in class. My French vocabulary and grammatical fluency was constantly expanding.

Miriam – 6 weeks  Read more
School established: 1988
Course duration:
Group tuition:  1-12 weeks
Private tuition: 1 weeks +
Minutes per lesson: 45
Minimum age: 16
Average age: 24
No. of classrooms: 20
Number of students:
Quietest weeks: 120 per week
Busiest weeks: 220 per week
Exam preparation: DELF/TCF/TEF
About the School
The French language school in Paris, was established in 1988 and is centrally located in the heart of the city. It occupies a whole floor of a lovely 18th century town building (accessible by lift or stairs) and is only a few minutes walk from the Louvre, the Georges Pompidou Centre and the famous Grands Magasins. This French school offers a wide range of French group courses to meet the needs of students aged 16 years plus, whatever your current French language ability.
The French language school provides a great environment for French courses, whilst exploring this unforgettable city. Situated on the 2nd floor, the French school comprises of 20 classrooms for group and private lessons (there is an elevator). Students can relax in the on site cafeteria between classes.
The French language students have free and unlimited access to the internet. At it's busiest during the warm (rather than hot) months of the year, students are well advised to book early for the Spring and Autumn programmes.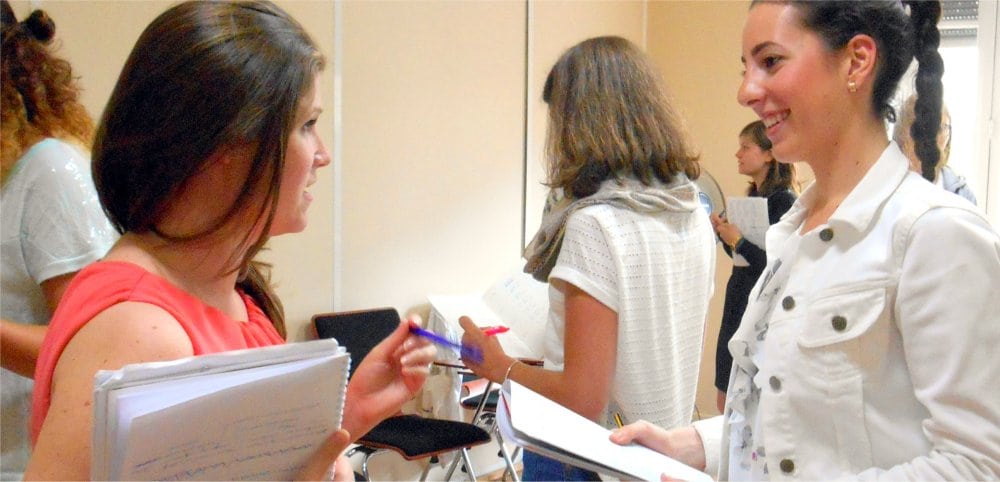 The school is relatively quiet in August, but as the Parisians are away on holiday accommodation can be harder to arrange, so early bookings are recommended. The staff are always on hand should you have any questions once on your course or need advice regarding activities available to you in Paris.
The French school in Paris requires all their teachers to have university degrees (minimum requirement is an MA) and extensive experience teaching French as a Foreign Language.