Call us now to find out more!
UK Tel: 01209 211 800
Intl Tel: +44 1209 211 800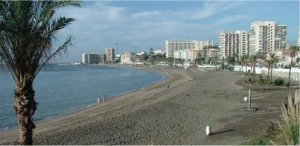 Learn Spanish in Benalmadena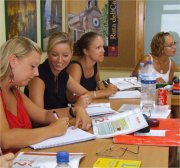 Located in a small town, on the coast in Andalucia, Benalmadena offers a lovely sea side location and the language school provides a small school environment, just right for those who want a Spanish school offering a quieter pace of life and plenty of sunshine!
The Spanish language school in Benalmadena was established in 1976 and offers Spanish language courses, year round, in it's main college for adult students (18 yrs plus). Adults are offered general language courses (at all levels of ability), DELE preparation and Combined Courses. In addition there is a Summer School for teenagers in Benalmadena, which opened in 1990 and is located in the local High School, only 10 minutes walk downhill to the main beach front area.
Spanish language courses offered in Benalmadena:
> Spanish Languages for Life Course
> Standard Spanish Course
> Combined Spanish Course
> Spanish Summer School
> Spanish DELE Preparation Course
> Over 50s Spanish Course
> Spanish Teacher Refresher Course
> Spanish Private Tuition

The year round Spanish School is located in a modern building, with large, bright classrooms, all equipped with audio-visual facilities, DVD and air conditioning. There is also a large, private sun terrace, a small cinema room and a library for student use. Students love the local area, amongst pleasant, low level villas with good local amenities and an easy stroll down to the beaches and marina.
| | |
| --- | --- |
| Spanish language course duration | 1 to 24 weeks |
| Minutes per Spanish lesson | 55 |
| Minimum age | 18 yrs (14-17yrs Junior) |
| No. of Classrooms | 12 (40 Junior course) |
| No. of students /quietest months | 60 per month |
| No. of students /busiest months | 120 per month |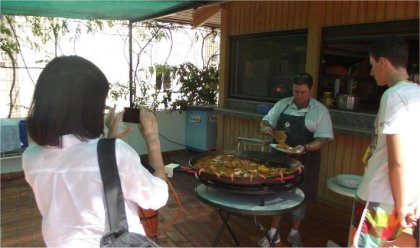 All students are encouraged to enjoy and make the most of their time in Benalmadena through participation in the guided excursions and activities offered by the Spanish school.
Spanish films, lectures on art, history and literature. Tapas tours, Paella and Sangria parties at the college, various evening outings to enjoy concerts and music venues for those who love Flamenco, Salsa or Latin American dances and of course to various local restaurants!
Day trips are offered to famous local cities; Seville, Cordoba, Granada or Ronda are regular options and students can also visit closer locations: Marbella, Nerja or Malaga.
The main draw during the warm/hotter months being the beaches, which are within easy reach by foot, from the Spanish language school.