Call us now to find out more!
UK Tel: 01209 211 800
Intl Tel: +44 1209 211 800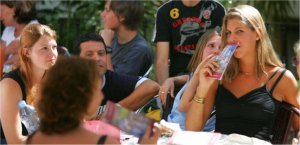 Learn Spanish in Malaga
The Spanish language school in Malaga offers an ideal setting for Spanish language students who wish to learn Spanish in a serious language school with an informal, relaxed environment all within easy reach of the heart of Malaga.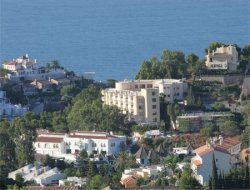 The Spanish school in Malaga is located up in the hills above the beachfront (the cream building in the middle of the photo). Established in 1971 it is a purpose built campus environment with a high teaching standard, fabulous facilities and an excellent reputation.

The Spanish language school is only 10 minutes walk downhill, to the main beach front area, with an amazing array of bars and restaurants to suit all pockets and appetites.
The Spanish campus is also only 20 minutes by bus to the centre of Malaga city. Students love the local area, located up in the hills, amongst pleasant, low level villas with good local amenities and an easy stroll down to the beach.
Spanish language courses offered in Malaga:
> Spanish Languages for Life Course
> Standard Spanish Course
> Intensive Spanish Course
> Spanish Academic Year Course
> Spanish Summer Programme
> Spanish Over 50s Course
> Spanish & Salsa / Flamenco Course
> Spanish & Cookery Course
> Spanish DELE Preparation Course
> Spanish Private Tuition
The Spanish language school appeals to all ages, nationalities and language abilities and offers start dates throughout the year, although it is always the warmer Spring/Summer period when the college is at its busiest. Everyone enjoys the wealth of on site facilities, the range of accommodation options available and a rich array of social activities (and of course the beaches!). The Malaga Spanish school offers a very high standard of teachng with fabulous on site facilities;
Facilities include:

~ 25 classrooms (most with a TV & video)
~ a small cinema
~ private study area and a multi media centre
with excellent computer learning facilities
~ 100 on site, en suite bedrooms
(so no commuting required!) with a 24 hr reception

In addition the college offers:

~ beautiful sun terraces,
~ a restaurant and bar,
~ a great student lounge with comfy sofas,
~ free wi-fi & computers for student use
~ a large TV (DVDs can be borrowed from reception)
~ drinks and snack machines
~ a dance studio
~ a mini gym with exercise machines,
~ a half-sized outdoor pool
(generally used from May to October)
~ on site laundrette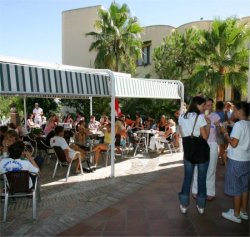 The school residence is on site, which ensures that the social focal point for students is the sun terraces in all but the poorest of weathers!
The Spanish language teachers are all native speakers of Spanish, with University degrees or comparable experience, who specialise in teaching Spanish as a second language.
The Spanish School offers Spanish language courses to cater for students of all ages from the Teenager course through to the Over 50s course. The intensive and challenging Private tuition courses appeal to business people, whilst the Academic Year course provides long term, in-depth study for Gap Year Students.
| | |
| --- | --- |
| Spanish Language Course Duration | 2-40 wks |
| Minutes per Spanish lesson | 50 |
| Minimum age | 16 |
| No. of Classrooms | 25 |
| No. of students /quietest months | 130 per month |
| No. of students /busiest months | 350 per month |
Why not combine your Spanish studies with a Dance course (Salsa or Flamenco) or a Cookery course to really make the most of your time in Andalucia! The Malaga college has long been a favourite with CESA students, for all styles of Spanish language programmes and is highly recommended as a year round destination.
All students are encouraged to make the most of their time in Malaga by participating in guided excursions and activities offered by the Spanish Language School. These social activities enable students to get to know Malaga, the people and the surroundings.