Call us now to find out more!
UK Tel: 01209 211 800
Intl Tel: +44 1209 211 800




Learn Spanish in Seville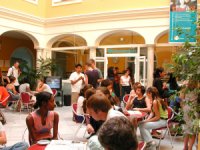 The Spanish Language school in Seville was established in 1983 and is located in a typically Andalucian town house with a beautiful central courtyard around which are 25 classrooms, an internet room, a library, a bookshop and study room.
It is within easy reach of the Cathedral and the Royal Palaces by foot and is located in the heart of the old town. Wifi is also available through out the school.
There is also a roof top terrace with a small pool for students to make the most of in the good weather, of which Seville has plenty.

The busiest study periods of the year occur during the long Spring and Autumn months. The staff are always on hand should you have any questions once on your course. The Spanish teachers are all native speakers of Spanish, with University degrees, who specialise in teaching Spanish as a second language.
Spanish language courses offered in Seville:
> Spanish Academic Year
> Spanish Languages for Life
> Standard Spanish Course
> Intensive Spanish Course
> Combined Spanish Course
> Spanish & Flamenco Course
> DELE Exam Preparation Course
> MCCI Exam Preparation Course
> Spanish & Business Course
> Spanish & Conversation & Grammar Course
> Spanish Over 40 Course
> Spanish Private Tuition
At its busiest during the warmer months of the year, students are well advised to book early for the Spring and Autumn programmes, and whilst the Spanish school is quieter in August (when the weather is particularly hot) accommodation can be harder to arrange so early bookings are recommended. The school offers a wide range of accommodation options, and the student residences and apartments are particularly popular.
| | |
| --- | --- |
| Spanish language course duration | 1-44 weeks |
| Minutes per Spanish lesson | 50 |
| Minimum age | 17 yrs |
| No. of Classrooms | 25 |
| No. of students /quietest months | 140 |
| No. of students /busiest months | 280 |
All students are encouraged to make the most of their time in Seville by participating in the guided excursions and activities offered by the college. These social activities enable students to get to know Seville, the people and the surroundings.