Call us now to find out more!
UK Tel: 01209 211 800
Intl Tel: +44 1209 211 800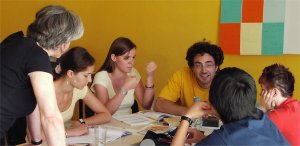 German Student Reports
Ms McCormack  / Berlin
An eight week language programme (20 lessons per week) in Berlin.  
"I expected it to be quite intensive and thought the lessons would be of a high standard. I wanted to really improve my German and develop a love of the language...." Read more...
Jack / Berlin 
Studied for April & May in Berlin, 8 week course in his Gap Year
I wanted my overall ability to improve to near fluency and that the course would be both educational and entertaining. I feel I achieved both goals!The lessons were good and the teaching effective yet informal...." Read more...
Geraldine / Berlin
6 week Standard course in Berlin from April to May with CESA
"I hadn't studied German after A-level and upon completing my physics degree wanted to improve my German, mainly for personal satisfaction. It will also help to have it on my CV....." Read more...
Tracey / Munich 
Tracey spent 5 weeks on a Private Tuition course in Munich from July to August.
"I hoped that I would get a balanced education which would include speaking, grammar, reading and writing. I also hoped that the teacher would challenge me and push me beyond my current linguistic abilities...." Read more...
Hannah Bishopp / Munich
Gap Year student,  12 week Languages for Life Programme in Munich
" I expected to expand my command of German, to experience a different culture and an opportunity to meet people from other countries. I also expected the opportunity to visit Munich and Bavaria and to see a large number of places of interest. Read more...
Kay French / Lindau 
Standard Group Programme in Lindau for 5 weeks, August
" I wasn't sure what to expect from my course and was a little nervous. However, after a couple of days I settled in fine. The lessons were very good and as my confidence with the language grew I began to forget that I was learning...." Read more...
Mr Abra / Lindau 
Five week Intensive Group Programme in Lindau (25 lessons per week).
"I expected a significant improvement in my basic colloquial German. I also expected to benefit in a broadening of my knowledge of German history and culture. My expectations were met on both counts..." Read more...
Jenny  / Kitzbuhel  
German & Ski Instructors Course, 12 weeks in Kitzbuhel, Austria Sept/Dec 
"I expected my spoken German to improve considerably. I also expected grammatical aspects to come more naturally by the end of the course. Generally I expected it to be a great way to meet people and become accustomed to the new environment with people in the same situation as myself...." Read more...
Peter / Kitzbuhel 
German & Snow-boarding/Ski Instructors Course, 12 weeks in Kitzbuhel 
"I wanted to get better at German and qualify as a snowboard instructor.  I found the teaching very good and felt that nothing much could be done to improve it.  The teachers were friendly, approachable and helped us out a lot ..."  Read more...
Miss Barton / Vienna 
4 week Standard Group Programme in Vienna in August.
"I expected to grasp some general German in the four weeks I was there. I also expected basic, clean accommodation close to the school. My expectations were definitely met, I learnt enough German to get me started... Read more...
Anthea / Cologne
Anthea attended a 1 week Combined Course in Cologne in July.
"I expected to be taught a mixture of grammar and topics and to have homework each day. I could not have hoped for a better course. I found the lessons very beneficial. They were always prepared, and a variety of teaching methods were used... Read more...