Call us now to find out more!
UK Tel: 01209 211 800
Intl Tel: +44 1209 211 800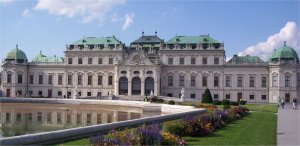 Learn German in Vienna
The German language school in Vienna, established in 1988, is located just 15 minutes by public transport from Stephansplatz (city centre). It is situated in a beautiful Art Nouveau style house in Vienna`s Embassy district. The college offers a wide range of German language courses, including group and private tuition programmes to suit students looking for both long term and short term German language tuition.
Students can stay with local German speaking hosts, in shared apartments or in the ever popular School apartment residence (which is just 10 mins from the German school in Vienna by public transport)
> German Languages for Life Course
> Standard German Course
> German Intensive Course
> Business German Course
> German Combined Course
> German Private Tuition Course
> German language school in Vienna : Social Activities
A wealth of courses are on offer to learn German, to suit all requirements. The German Language school houses 6 modern and well furnished classrooms (in the main college building), a multi-media library featuring 17 computers with free internet access and a spacious student lounge with coffee, drinks, snacks and free WIFI throughout the main school building. The staff are always on hand should you have any questions once on your course. An additional 10+ classrooms are available in the next door building, for use in the busy summer months.
The German School becomes fully booked during the summer holidays (so early bookings are recommended, especially for students who wish to stay in the School apartment residence).
The German School requires all their teachers to have university degrees and extensive experience teaching German as a Foreign Language.
| | |
| --- | --- |
| German Language Course Duration | 1-36 weeks+ |
| Minutes per German lesson | 45 |
| Minimum age | 16 yrs |
| No. of Classrooms | 6 (10+ in the summer) |
| No. of students /quietest months | 40 |
| No. of students /busiest months | 100+ |
All students are encouraged to enhance their German language course in Vienna with a range of visits and activities outside the classroom, by participating in the guided excursions and events offered by the German language school. These social activities enable students to get to know Vienna, the people and the surroundings.