Call us now to find out more!
UK Tel: 01209 211 800
Intl Tel: +44 1209 211 800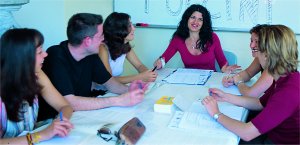 Learn Italian in Viareggio
> Standard Italian Course
> Combined Italian Course
> Carnival Italian Course
> Italian Private Tuition Courses
> Italian Exam Preparation Courses
> Over 50s Course

> Italian Course Methodology
Standard Italian Course
2 to 16 weeks Italian language course duration
Open to 16+ age group
20 group Italian lessons per week
Max. 12 people per class
Timetable: 09.00 to 12.30hrs (afternoon timetable may also run in high season)
A short term Italian language course aimed at those who need to build on current skills or who want to kick start their Italian language learning from scratch with an immersion course in Italian. The Standard Course is held throughout the year and the Italian language school offers classes across 6 levels of ability. Four lessons daily (Monday to Friday). This is the most popular course and suits most students wanting to improve their general language skills. The classes cover all aspects of the Italian language. Special emphasis is placed on speaking and interacting in Italian and studentes work in small groups (average 8, max 12 people), so you will quickly make progress in Italian.
Skills covered: Listening, speaking, pronunciation, reading, writing, vocabulary, grammar, and activities
Combined Italian Course
2 to 4+ weeks Italian language course duration
Open to 16+ age group
20 group Italian lessons per week
plus a further 5 or 10 private tuition lessons per week
Max. 12 people per group class
A short term Italian language course aimed at those who want the combined study experience of the camaraderie of the group course, with the individual attention of the Italian private classes with a personal tutor. The individual lessons are designed to meet your specific needs. We recommend this course for those who want to learn Italian very quickly. In the individual classes you decide on the contents, topics and exercises with your teacher: the teacher will be able to help you individually.
Carnival Italian Course
2 weeks Italian language course duration
Open to 16+ age group
20+ group Italian lessons per week
Max. 12 people per group class
Follow the Standard Italian course at your level and join in the Carnival Festivities that take place in February. The Carnival course includes orientation on the 'Carnival of Italy and Europe', guided visit to the 'Citadel' and museum; enjoy the shows and cultural events such as the fun musical comedies and masked balls; experience the Carnival parades.
Italian Private Tuition Courses
1 week+ Italian language course duration
Open to 16+ age group throughout the year
15 or 20 private Italian lessons per week
An extremely intensive Italian language course, ideal for those who wish to make maximum language progress over a one or two+ week period. Aimed at business people or those who need to work on their Italian for academic or professional reasons, for whom time is of the essence.
Italian Exam Preparation Courses
DELI (elementary level)
DILI (intermediate level)
DILC (intermediate/business level)
DALI (advanced level)
DALC (advanced/business level)
Students are welcome to follow a long term Italian language course prior to the four week specific exam preparation course leading to the exams themselves. The final 4 week session consists of the Italian Standard course plus an additional 10 lessons per week of mock tests, strategy discussion and exam drills. Should there be only one participant in a class, lessons will be reduced to 5 private lessons per week (in addition to the Italian Standard Course).
Over 50s Programme
4 lessons of group language course per day
20 lessons per week
Visits and excursions on the afternoons
One full day excursion during the weekend
Students will learn Italian in a pleasant and relaxing environment, accompanied by a wide variety of cultural activities. Morning Program: The morning course of Standard Italian Language is designed to improve language and conversational skills, and heighten the awareness and appreciation of the Italian culture.
Afternoon Activities:
Orientation tour of the city and introduction to the Liberty Architecture period with visits to the "Promenade Regina Margherita" and the "Gran Café"
Melodrama: Introduction to Puccini's Operas, with live auditing (Giardini Sonori)
Cooking class with typical Mediterranean dinner
Afternoon excursion to Torre del Lago with visit to Puccini's house and museum
Wine tasting guided by expert sommeliers: Tuscan reds paired with regional Italian cheeses and bread
Seminar on 'gelati italiani' (Italian Ice Cream)
Weekend day trip to Florence
If there is only one participant, they will be placed on the Combined 20 + 5 Course.
All organized school activities are free of charge for this participant.
Generally though the school expects there to be approx 5 students on this course
The Italian Language School's key concern is to get you to speak!
Students are encouraged to speak Italian and only Italian for the very first day. Learn more about the methodology at the Italian language schools in Viareggio.